Roger N. Smith Associates, Inc. (RNSA)
2424 SE Caruthers St
Portland, OR 97214
US
Office: (503) 241-5444
Fax: (503) 241-1441
Email
Geothermal Services
RNSA has participated in development of more than 80,000 ft2 of open-loop geothermal systems in the Portland metropolitan area. These energy efficient systems have resulted in two platinum and two gold LEED certifications for client buildings.
In addition to the Low Temperature Geothermal (LTG) systems, RNSA personnel have participated in research of high temperature systems in Idaho and the western Snake River Plains resulting in publications.
Elements of projects we are involved in include:
Water Rights
Production and Injection Well Design and Installation
Permits, Environmental Reviews (geothermal, underground injection, Fish and Wildlife and City Water Bureau Wellfield Protection review)
Well design and installation management
Aquifer and well testing
Geothermal resource studies outside Portland Metropolitan Area
City of Boise Idaho Capital Mall Geothermal Development, resource identification (State. Water Resources Investigation with publications)
Groundwater source for auxiliary cooling of a cloud computer data center in Boardman, Oregon
Western Snake River Plains, Oregon/Idaho (Heat Flow Study with publications)
MCKINSTRY COMPANY LLC, OREGON HEADQUARTERS, NE MASON ST. AND AIRPORT WAY, PORTLAND


McKinstry's new Oregon Headquarters Building has been constructed (completed August '09) as a demonstration project for the mechanical engineering company specializing in design build of structures that are high in energy efficiency. RNSA was involved in the development of a low temperature geothermal well system that is being used to heat and cool the 50,000-ft2 building. This involved a 36-hour aquifer pump test. Unique features include capacity to reverse flow in wells. the U.S Green Building Council awarded the McKinstry building a LEEDs (Leadership in Energy and Environmental Design) Gold Certification because of the energy efficient design of the building.
HERITAGE BUILDING, 3934 NE MLK BLVD, PORTLAND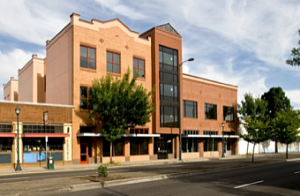 A new low temperature geothermal open-loop system was installed in a building being rehabilitated and expanded along MLK Blvd. Two wells, 300-foot deep were installed capable of producing and injecting 150 gallons per minute. Water from the geothermal production well si being used to supplement roof-water runoff for sanitary facilities to reduce deman of this commercial building on public utilities The groundwater system uses ambient temperature water to both cool and heat the building. The low utility bills and tax credits and rebates are and incentive to installing these environmental friendly systems. In 2008 the U.S. Green Building Council awarded a Gold LEEDS certification to this building because of the environmental friendly features incorporated into the design.
BURNSIDE ROCKET BUILDING, 1111 E. BURNSIDE, PORTLAND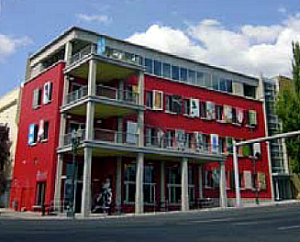 The Rocket Building, a 16,233 ft2 building includes an open-loop low temperature geothermal system. RNSA managed permits, drilling, pump installation and interfacing with mechanical engineers, civil engineers, and contractors. Two wells were installed in the underlying Troutdale Aquifer to a depth of 300 feet. One well was designed as a production well, one as an injection well. Aquifer characterization tests were done on both wells. All heating/cooling as well as domestic drinking water needs for the building (including two restaurants in the building) originate from this resource.
RNSA was responsible for permitting, well installation management, pump tests, hydrogeologic modeling and conducting final proof for water rights certification. RNSA continues to manage the required water quality monitoring. At the completion of the project a US Building Counclil LEEDs review awarded a Platinum certification to the building. In 2011 this building was awarded the Urban Land Institutes Award for Excellence and entered into the ULI International Competition for innovative buildings influential in encouraging environmental friendly design.
CYRK BUILDING, LOW TEMPERATURE GEOTHERMAL WELL, 2002 SE CLINTON STREET, PORTLAND
RNSA recently completed the feasibility study followed by installation of an open loop LTG (Low Temperature Geothermal) system. This 14,000+ ft² building is a combination residential and commercial building which includes underground parking. Groundwater will be withdrawn from (and re-injected into) the underlying Troutdale Gravel Aquifer. All permitting, drilling management as well as coordination with architects, mechanical and civil engineers, contractors, owner and neighbor related to the LTG drilling and groundwater acquisition is the responsibility of RNSA. A U.S. Building Council LEEDs Platinum certification is anticipated for this building in 2015.
GROUNDWATER COOLING SYSTEM STUDY FOR A CLOUD COMPUTING CENTER, BOARDMAN, OREGON


RNSA completed a feasibility study for the use of groundwater as a media for cooling Amazon.com's new $100 million dollar cloud computing data center in Boardman, Oregon. The study included an assessment of possible regulatory restrictions, hydrogeology, water quality conditions and a cost comparison alternative cooling systems configurations with aquifer resources development. The study identified sufficient water quantity with verbal approval from Oregon Department of Water Resources that water rights would be available and clearly defined water quality issues and whether they would affect cooling equipment.

PORTLAND SCHOOL DISTRICT, LOW TEMPERATURE GEOTHERMAL WELL REHABILITATION, 5700 NE CESEAR CHAVEZ BLVD, PORTLAND
Under contract with the Portland architectural firm Fletcher Farr Ayotte, RNSA managed the rehabilitation of a high volume production well being used to provide a Portland School with heating and cooling through an open-loop low temperature heat pump system. Specific yield tests, down-hole video and production records were used to determine an appropriate rehabilitation approach. The well was treated for bacterial growth as well as for mineral precipitate buildup. The project was completed on a tight time frame because of the high demand for building use. Follow-up work included the development of a maintenance schedule to monitor and plan for likely future rehabilitation work.
---
Roger N Smith Associates, Inc. (RNSA)
2424 SE Caruthers St, Portland, OR 97214
Office: (503) 241-5444 Fax: (503) 241-1441
Specializing in Groundwater & Environmental
Professional Services in Portland, Oregon
Licensed - Bonded - Insured
Home | Who We Are | Hydrogeology Services | Environmental Services | Contact