Roger N. Smith Associates, Inc. (RNSA)
2424 SE Caruthers St
Portland, OR 97214
US
Office: (503) 241-5444
Fax: (503) 241-1441
Email
Environmental Management
PARSONS ENGINEERING/HONEYWELL INTERNATIONAL
REMEDIAL INVESTIGATION (RI) IN THE PORTLAND WELL FIELD
Since 1999 RNSA, has been part of a team investigating the distribution of chlorinated compounds in the Troutdale Aquifer System in the south shore area of the Columbia River near the Portland International Airport. This project is being done under a Consent Order through the State DEQ.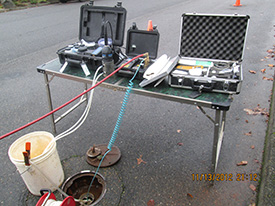 RNSA managed the installation of innovative wells using resonant sonic drilling techniques. Since the installation of continuous multi-channeled tubing (CMT) wells, RNSA has been responsible for maintaining and monitoring the well field covering approximately 2 square miles. Successful completion of these wells included a record depth CMT well installation. RNSA also logged and managed the installation of a patented dual-screen groundwater remediation wells. A long term aquifer test was conducted on this well included special management of 2 million gallons of contaminated water, filter the water through activated charcoal filters, cleaning the water for disposal into the nearby slough aquifer characteristics were developed from data collected from 10 pressure transducers in wells within 1/4 mile of the pumping well.
CITY OF PORTLAND, BUREAU OF ENVIRONMENTAL SERVICES
GROUNDWATER WELL MONITORING NETWORK DESIGN
RNSA under contract with the City of Portland Bureau of Environmental Services designed a regional well monitoring network for the
Columbia Slough Watershed project area in north Portland. An objective of this project was to identify if aquifer recharge from City street stormwater dry well sumps were impacting an underlying drinking water aquifer system. RNSA developed a monitoring strategy for a nine-square mile study area that is densely populated and almost completely serviced by hundreds of sumps. Steps in the network development process included: selecting wells to measure groundwater elevations in the uppermost aquifer, evaluating and ranking existing well suitability for long term sampling and selecting locations for new well installations.
CITY OF PORTLAND, BUREAU OF WATER WORKS EXPANSION OF GROUND WATER MONITORING NETWORK, FOR CITY WELL FIELD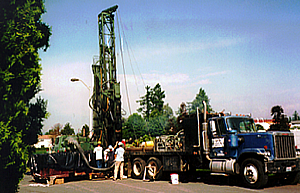 RNSA, as prime consultant to the Portland Water Bureau, designed and installed a comprehensive regional ground water monitoring network for the City's well field. A dual-walled reverse-air percussion drill was used in a two year-long project. Phase I of the work included: installation of 14 new wells in three of the Troutdale Formation Aquifer (TGA, TSA and TSGA). In Phase II, 9 wells were installed Troutdale Formation as well as in the Columbia River Sand Aquifer. One well extended to depth of 564 feet. Core samples were collected for aquifer characterization and geophysical borehole logging was used to enhance subsurface mapping.
THE CONFEDERATED TRIBES OF WARM SPRINGS
The Confederated Tribes originally contracted RNSA to review a $250,000 groundwater resource remediation project installed at the City of Warm Springs. This project involved the coordination of Tribal members, EPA representatives, and the contractor. This project had a fast-track timeline associated because contaminated groundwater restricted use of public buildings needed for an annual Tribal event (Piumshaw). Restoration of the aquifer and reoccupation of the public building successfully met desired timeline.
---
Roger N Smith Associates, Inc. (RNSA)
2424 SE Caruthers St, Portland, OR 97214
Office: (503) 241-5444 Fax: (503) 241-1441
Specializing in Groundwater & Environmental
Professional Services in Portland, Oregon
Licensed - Bonded - Insured
Home | Who We Are | Hydrogeology Services | Environmental Services | Contact